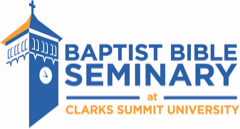 Baptist Bible Seminary at
Clarks Summit University
Website: BBS.ClarksSummitU.edu
Address: 538 Venard Rd., Clarks Summit, PA 18411
Phone: 800–451–7664
Email: bbs@ClarksSummitU.edu
Denomination: Baptist
Distance Education Available: Yes
Scholarship / Financial Aid Opportunities: Yes
Enrollment: 16
Accreditations: Association for Biblical Higher Education Commission on Accreditation; Middle States Commission on Higher Education
Committed to rigorous, Christ‐focused study, Baptist Bible Seminary at Clarks Summit University offers degrees that are Scripture-driven, immediately applicable, and flexibly delivered online. Since 1932, we've been helping students like you gain a more effective ministry and deeper knowledge of Scripture.
Become a theological leader equipped to teach the Word, preach the gospel, and influence hearts and minds in service to the Lord while gaining practical ministry skills and strategies to advance your ministry. Gain insight from professors who have significant experience in church leadership and ministry and will challenge you to think critically and biblically. By immersing yourself in biblical truth at Baptist Bible Seminary, you will emerge with a foundation you can trust.
Every program at BBS prepares students to be Christ-focused, Scripture-driven and ministry-ready. Earn your master's degree completely online in as little as two years, or earn your doctoral degree with enhanced online options. To learn more about Baptist Bible Seminary's flexible and immediately applicable degrees, online or residential enrollment options, tuition discounts, and expert professors, visit our website or request more info!

Provides Logos Bible Software to Students
________________________________________________
Degree Programs
View Seminaries by category